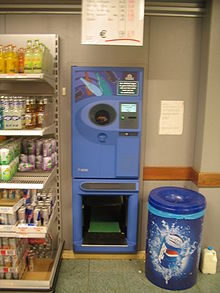 One of the funny stories when we moved to CA had to do with recycling. In Netherlands you pay deposit money for a lot of the glass and plastic bottles. The gorcery store has a recycling station: you bring your bottles and crates back and receive the refund. For some of the bottles this might be a high as an Euro. Great reason to recycle… Also in most towns, the glass bottles you don't pay deposit money for, have to be brought to recycling containers, separated according to color… In the first month after we moved to CA, I walked through twice through the local grocery store to find the recycle station… and then I finally asked…
In Sonoma County we have Curbside recycling for glass, paper etc, there is a recycling guide for all the items that need recycling. We might not realize it but we have more 'toxic waste' products in our homes than we think.
Recycling is just one part of Green Living. A lot of the buyers I work with like to live in a spot where they can bike to work, walk to the farmers market, walk to the store. The numbers show a trend that is becoming more important. Popular neighborhoods in Santa Rosa for this reason: JC area, Burbank Gardens, Proctor Terrace, Sherwood Forest, Montgomery Village, the West End district. It will be interesting to see how this is going to impact for instance the homes in Fountain Grove, right now the same SqFt home in Fountain Grove is less expensive than in the areas mentioned before.
Think about this: if you pay $600 a month to fill up your car to get to work while you could save this money by biking to work or walking to the stores… with current mortgage interest rates, that is about $100,000 in mortgage payment…
Just some thoughts I wanted to share, not only when buying a property to live in but also when investing in real estate. Properties in areas closer to good schools, shopping, parks, public transportation are just easier to rent.
Green living saves money!
Mirjam