In 1953 there was major flooding in Netherlands: in the night o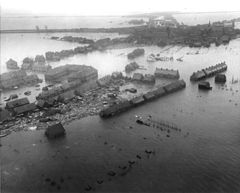 f January 31 many dykes in the provinces of Zeeland, Zuid Holland and Noord Holland broke due to the combination of a spring tide and a northwesterly storm. Your first reaction might be ofcourse, about 50% of the country is below sea level… And you are right, Netherlands depends on the protection of dykes. The 'watersnood of 1953' caused a change in the priority (tax dollars) given to the maintenance of  dykes and water ways.
Now living in Sonoma County… part of the 3rd party Hazard Disclosure is whether a property is located in a flood zone. There are Special Flood Hazard Areas, areas of potential flooding, coastal flood areas, areas contained by flood control measures -dams- and more… Hmm sounds familiar ;)… It's not that bad, parts of Sonoma County are more prone to flooding than others. When the Russian River floods it's  due to extreme weather, the last time was about 7 years ago.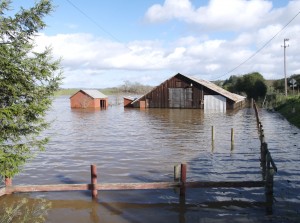 There are maps available showing where high risk flood zones are. When you buy a property and one of the requirements to get a mortgage is to have flood insurance, that's a pretty clear sign too… There is a special form for this.
You insurance broker takes care of flood insurance btw. I just checked with Erin Temple of Vantreo Insurance.
Always read all the reports you receive when you purchase a property and before you remove your inspection contingencies. Then you know the risks of the location/property you are buying and have the choice to accept these or not. A good Realtor will go over the reports too, however it is the buyer's responsibility to read and go over all the information given… Yes it's a lot, but not doing your homework and have to find out afterwards is worse…
By the way: I love living in Sonoma County. It is a great place to live.
Mirjam