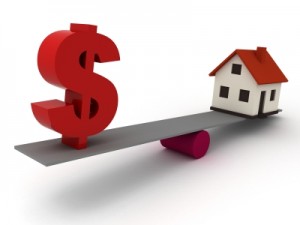 In general when you see overviews of Distressed Sales, REO/bank owned sales are put together with Short Sales. This might give the false impression that a Short Sale is a bank owned sale. However, a SHORT SALE IS NOT OWNED BY THE BANK!!!
Just to give a perspective: when a homeowner sells a home there may be several 'contingencies'. Example: I'd like to sell my home but I need to find another home. In this case when an offer is accepted, the seller asks for some time to find an other home. This can be any amount of time agreed upon. When the seller finds the home they like, they release that contingency and the buyer can move forward with the purchase of the home. Another fairly common one is a builder who sells new homes: I am selling this home and you can buy it when it's finished.
A short sale is similar: in this case a home owner likes to sell his home but the house is worth less than the mortgage amount. In case the seller is not able to come up with the difference (deficiency) he/she needs approval/agreement as to how the deficiency is handled. Once this approval is given, the contingency is removed and the buyer can move forward with the purchase.
Agreed, bank approval can be a little more complicated and yet that is not the point. In the case of a short sale, the seller is the legal owner of the property. Like a 'regular' sale, the seller provides all statutory disclosures as well as all other info pertinent to the house. Think for instance information about the trees in the yard, the history of the house/remodels, just name it.
So yes, a short sale is a distressed sale in the sense that seller is not able to keep their financial commitments. However if you talk about the house itself: any sale can be a distressed sale. I see short sales that have been very well maintained and show pride of ownership and I see regular sales that have been very poorly maintained.
So next time you see a short sale: it's like a regular sale with a seller contingency.
Mirjam