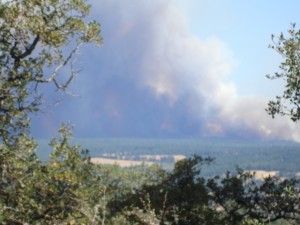 Last week we stayed at a vacation house close to Lassen Volcanic National Park, the home was in a beautiful area surrounded by forest. At one of the last days of our vacation there was a thunderstorm at night which sparked a wild fire about 11 miles south of us. The fire spread fast and we had to evacuate the house that evening.
This is called a natural hazard and part of the disclosures when someone buys a home. Sonoma County also has high fire hazard areas. Besides having this covered by the home owners insurance, there is also a lot a home owner can do to defend his/her home against fire. The California Department of Forestry and Fire Protection has a great website with lots of information.
Landscaping is important. One of the first things to do is to create a defensible space around the house, this is the buffer you create between your home and the grass, trees, shrubs or wild land area. This space is needed to slow or stop the spread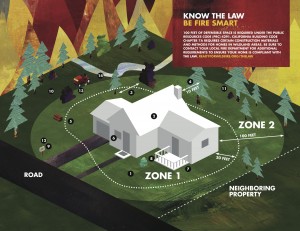 of wildfire and it protects the home from catching fire. Also realize that firefighters are reluctant to go into a situation that will put themselves in danger and pick the homes that are easiest to protect first, depending on the situation.
While creating that defensible space, it is also important to use fire resistant plants for landscaping. While there are no 'fire-proof' plants, plants with high moisture and have low sap or resin content take longer to ignite. Hardwood trees like maple, poplar and cherry trees are less flammable than pine and fir. Check with your local nursery about fire resistant plants that are suited for your area.
And don't forget to check with your insurance agent yearly to make sure you have enough coverage in case your home burns down. As mentioned before, a great local agent I can highly recommend is Erin Temple with Vantreo Insurance, she makes sure you have the correct insurance, whether or not you live in a high risk area.
Mirjam